One of my favourite safari tips is to advise travellers not to overlook their safari camps. Most safari lodges are strategically positioned overlooking waterholes, rivers or spectacular sections of Africa's remote wilderness. Sitting quietly with a morning coffee or sundowner G&T in hand, taking in the view, can be most rewarding – you can even enjoy game viewing from camp.
Although a seasoned safari goer, I was recently reminded of this wisdom when on a family safari in Zimbabwe's Hwange National Park. We'd had a longish day getting to Somalisa Acacia Camp, where we were staying, and being September it was hot and dry. My four-year-old daughter (or four and three-quarters, as she likes to point out) was desperate to try out the lodge's swimming pool, so we decided to skip our afternoon game drive and relax at camp. It was a holiday, after all.
As it turned out we weren't the only animals on the hunt for something cool and wet…
(Scroll down to watch the video.)
Somalisa is comprised of two camps, positioned back to back with each overlooking permanent waterholes. With it's connected and interleading tents, Somalisa Acacia is ideal for families, whereas Somalisa Camp is more suited to couples. Each of the camps' guest areas have swimming pools, plus cleverly located drinking troughs to attract wildlife, enabling game viewing from camp.
When we told our guide, Lewis, that we'd decided not to take our game drive, he reassured us that there was every possibility we'd see game right at camp. In fact, he said, there was a pride of lion nearby that would most likely come down to one of the waterholes to drink. He'd keep an eye out and call us if they made an appearance.
Shortly before sunset we saw a beaming Lewis hurriedly approaching. As predicted, the lion had been spotted en route to Somalisa Camp. Hastily grabbing our cameras, we followed him to the deck next to the waterhole to try get some game viewing from camp.
As we were settling in, a dusty herd of elephant came stomping towards us, jostling each other for a position at the water trough. We were suddenly enveloped by thirsty giants.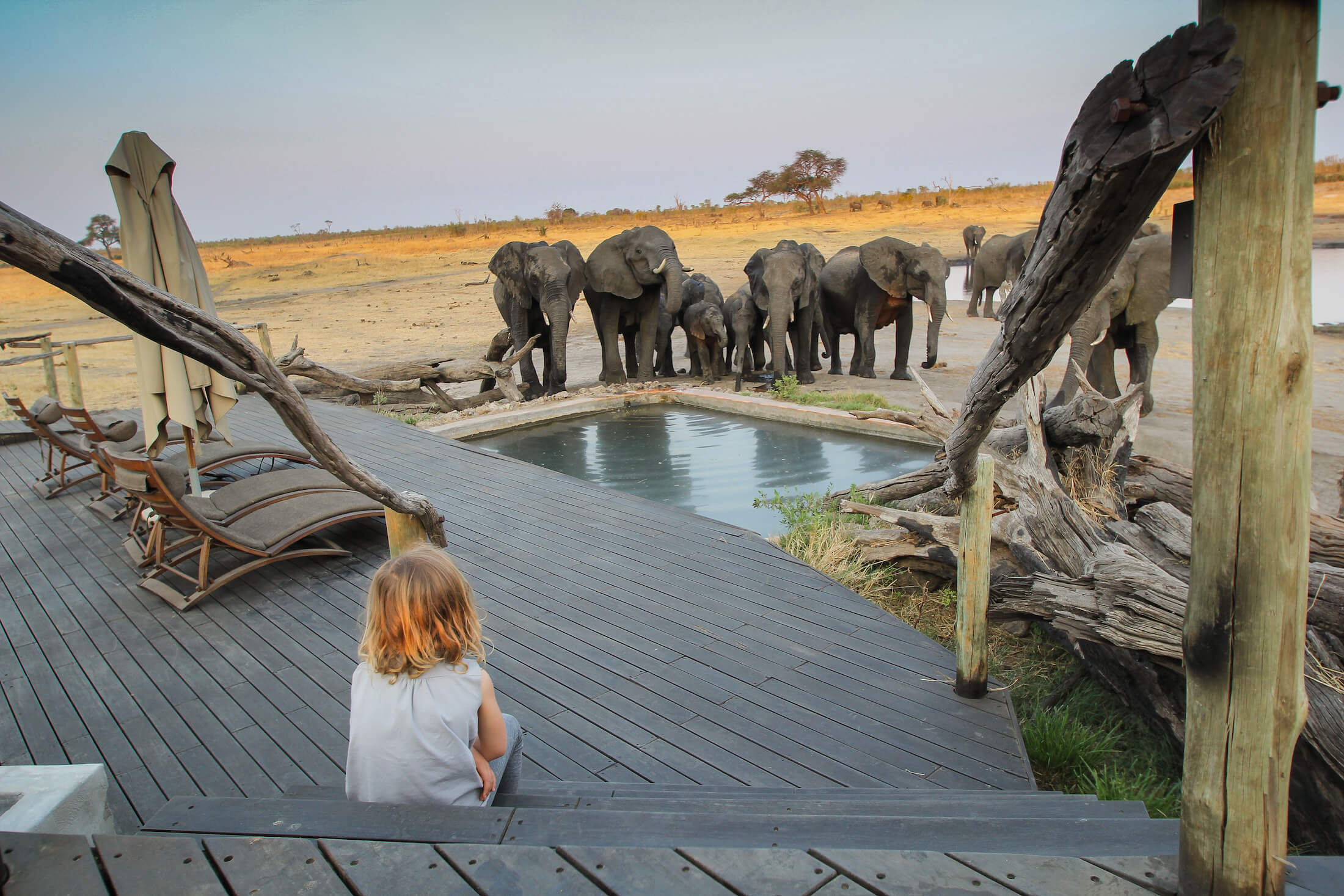 Then, as if on cue, two lionesses came padding softly out of the dusk, approaching the far side of the waterhole for their sundowner drink. We waited, barely breathing, to see what would happen.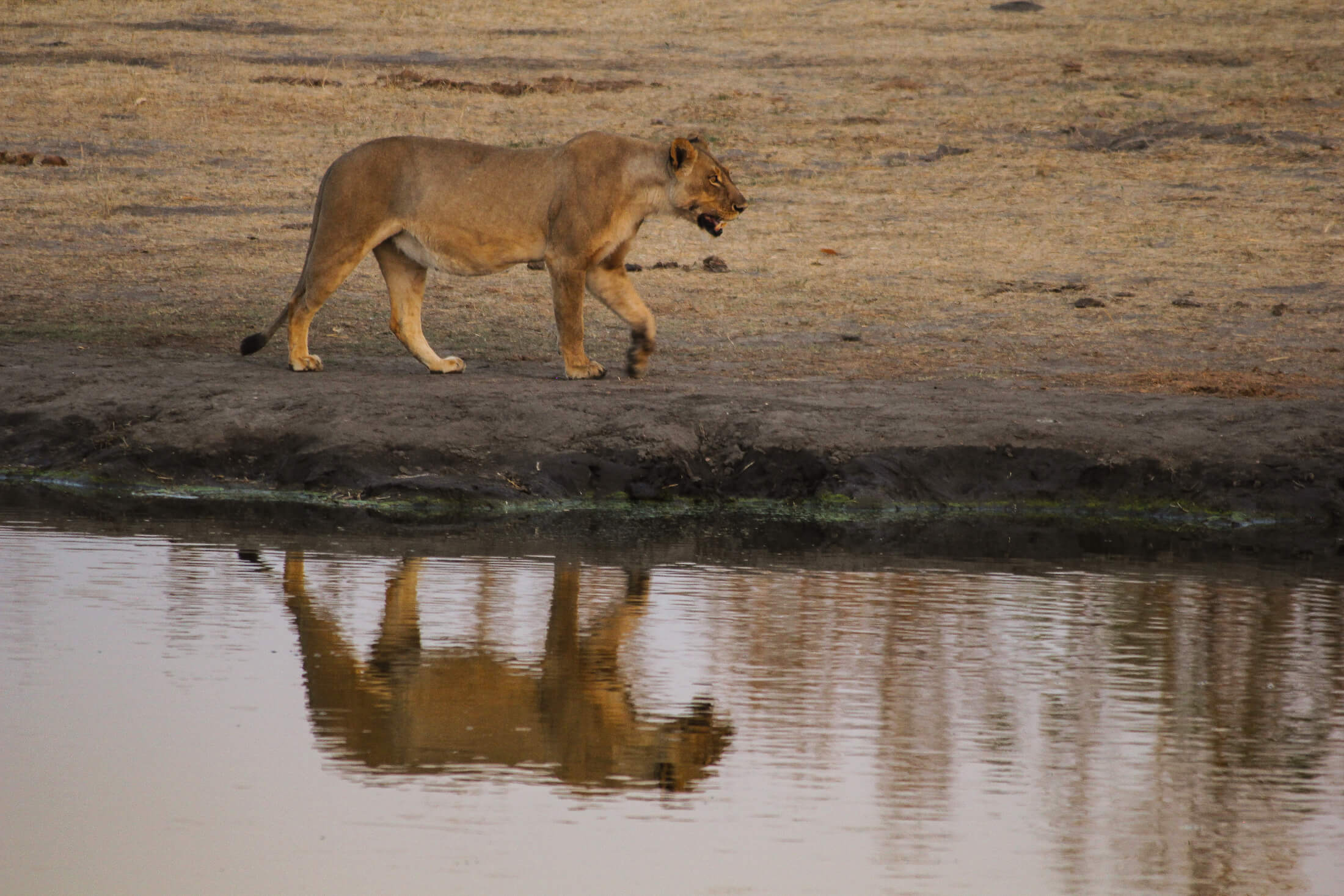 Soon after, the herd started drifting away to spend the night feeding, and my heart sank a little. We had front-row seats to the action – or, more correctly, front-row loungers – and I'd been hoping for some excitement.
It wasn't over yet, however: an elephant bull had caught the scent of the lionesses, and turned to investigate.
Now, it's a well known fact that elephant don't like lion, so, on the edge of my lounger now, I rapidly shifted my gaze between the two species, to see what would happen.
The elephant bull approached slowly, stopping to smell the air every couple of metres until he was close enough to confirm his suspicions. A short mock charge and kicking up some dust did nothing to unsettle the cats, so the bull took a few steps backwards, preparing himself to charge. He rushed forward, trumpeting wildly, and the objects of his animosity bolted.
Emboldened now, the titan decided to drive his point home, charging the nearest lioness with another loud trumpet. She picked up speed, disappearing into the bush. Satisfied with his efforts, the bull relaxed, returning to his herd.
I grinned in the fading light. Our best decision of the day was to hang around camp!
Watch how it all happened…
Ready to see for yourself?