We're sometimes asked if we sell hunting safaris at Art of Safari and, from time to time, what we think about hunting in Africa. The answers are simple. We don't, and never will, sell hunting safaris as we believe Africa's wildlife should be conserved, rather than killed.
We're aware that there are arguments in support of hunting as an effective conservation measure, but the conscious killing of increasingly endangered wildlife for commercial and egotistical agendas is not something we could ever endorse. In fact, in addition to not selling or endorsing hunting safaris, we don't promote any forms of consumptive tourism in Africa at all.
It's true, some of our images show people with rifles, which might be confusing. However, the people you see aren't hunters; depending on the country, they're either guides or rangers. The rifles are carried purely as precautionary safety measures – particularly on walking safaris – and not for hunting, or with any intention of harming wildlife at all.
This might make you wonder at the wisdom of walking safaris. However, walking among wild animals isn't a conscious effort to put oneself in harm's way, rather it offers a slower and more mindful manner of experiencing the wilderness, as well as an alternative perspective than that afforded from a safari vehicle.
Walking is also actually the least impactful way to experience Africa's wilderness, and in truth, most African animals (even the big ones) are afraid of humans, and they'd sooner run away than approach a group of people on foot.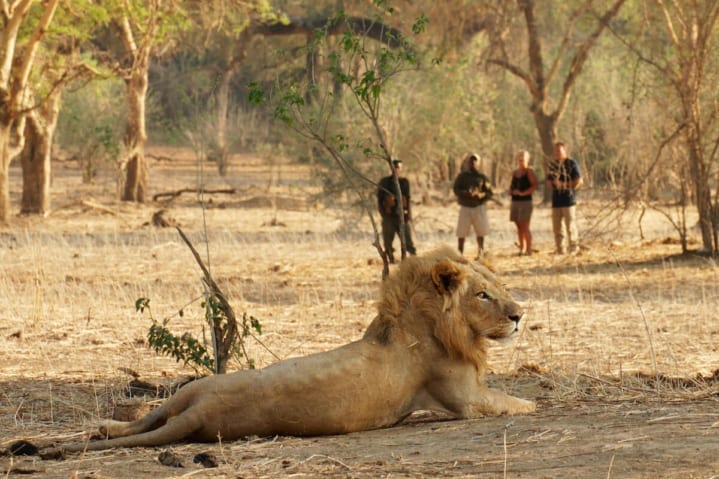 More important than rifles, the safari professionals that conduct walking safaris are armed with a deep respect for Africa's wildlife and an in-depth knowledge of their behaviour, which ensures that any potential conflict with a wild animal is avoided altogether.
I spent many years as a safari guide. While much of my time was spent in a safari vehicle, I was also often on foot – either tracking animals to find them for guests or accompanying guests on walking safaris. My colleagues and I carried rifles, but – through respecting the wildlife and following some simple rules – never once were any of us required to shoot at an animal defensively.
Some say we should simply leave the animals in peace. While this is a wonderfully utopian idea, the reality is that the long-term survival of Africa's wildlife is dependent on safari tourism. Our presence (and yours) is an important contributor to preserving Africa's incredible wilderness for generations to come.
Keen to explore Africa's wilderness on foot? Click here to explore our walking safari ideas.